Para leer el artículo en español, clicar aquí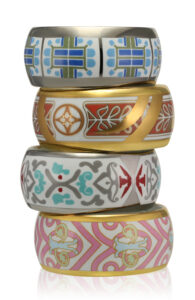 What do Zinedine Zidane, the wife of the President of Azerbaijan and diplomats from China, Japan and the USA have in common? The answer is one word only: ZEMA jewels. When one thinks of porcelain products as gifts, not to mention as protocol gifts, quickly comes the realisation that the opportunities nowadays go way beyond the classic dinner sets and vases. ZEMA Jewels is a Hungarian porcelain manufacture located in the capital city and produced in the picturesque village of Pálháza: their products are made with unmatched care, professionalism, and style. Creative director Mrs. Erzsébet Papp designs each piece with one aim: to protect and celebrate national heritage by passing it on to the younger generations. ZEMA is now among the most popular firms to create protocol gifts: their necklaces, earrings, bracelets, and rings stand for timeless style and class while sharing the work of incredible artists.
Could you tell us the story behind the name of the ZEMA brand? What does the name stand for? Would you give us a little peak on the journey that leads to creating a new product in your very own porcelain manufacture?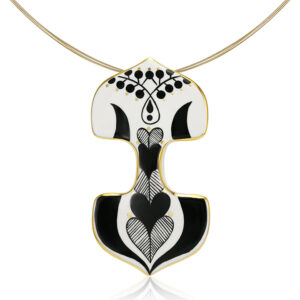 The brand's name stands for the initials of your children's names (Zsófia, Eszter and Máté) and ApaAnya (Mom and Dad in English). Although ZEMA is a family business, we work with the most skilled artists who can create the most complex patterns and forms. All pieces are designed by Mrs. Erzsébet Papp, creative director of ZEMA and the mother of the aforementioned 3 children: we do not work with any other designers, we only produce our own designs. We have an extremely wide scale of patterns, different themes with each new collection. Respecting and preserving the culture and values of our ancestors, our history is the most important feature with each design. Whether they are traditional motifs form certain areas of Hungary with their unique embroidery patterns (Matyó, Sárközi, Palóc and so on), artworks of famous Hungarian and European painters and artists (Vincent Van Gogh, Endre Szász, Tivadar Csontváry Kosztka, etc.), or patterns from different periods in Western art history (Renaissance, Baroque, Art Nouveau, Art Deco) or motifs seen on objects used by our ancestors (Scythian, Avar, Hun). The patterns and forms have a positive meaning at all times (The Tree of Life, Flower of Life motifs, heart-shape, and such).
We use 21k gold or platinum during the making of the delicate hand-painted pieces: this makes the collections even more valuable.  The last phase of the design process is the discussions with our painters and ceramists which can either backup or completely redefine our plans of creating the previously designed pieces.
Not to mention Mr. János Papp, managing director of ZEMA, husband of Erzsébet, who manages the entire production department. He also sees over the technical background. Even before the porcelain manufacture came to life, he had been studying the art of porcelain making to make the process more efficient and professional. Having gained a respectable amount of experience in the field helps a lot. What is more, he frequently consults with our employees and other experts from
the ceramics field. He is open to every novelty, has been to numerous porcelain factories: this also proved to be helpful regarding our and our colleagues' work.
ZEMA jewellery has an incredible creation process, as all pieces are made by hand, using an electric stove. Would you give us a little insight on that? How long does it take to create a product from scratch?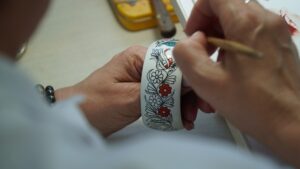 The making of a ZEMA piece could take multiple weeks or even months. Brand new styles and patterns require a pilot project: the firing times and methods can only be perfected after testing. This also stands for the choice of colours, which of them could be fired together and which could not be. The finished products also need to undergo some tests before they are ready to be sold to the public: a few lucky ladies and gentlemen have the opportunity to wear them before they are introduced in the stores: they provide important feedback about the new artworks we created.
Sustainability is an important pillar of the brand's image. Could you share some of your practises to be as environmentally friendly as possible? 
Sustainability is a key element of our brand's image. We are constantly working on making our production department as environmentally friendly as possible. All of our stoves work with solar power, the heating and cooling of the manufacture building are also powered by natural forces. Any type of by-product that occurs during production is fully recycled and reused in the process. Our base ingredient needs water: it is supplied by moisture extracted from the air. This method is ours completely, our own invention! This is how ZEMA aims to include sustainability in every step of the creation process.
Each ZEMA collection has a theme: they play a crucial role in value creation and the protection of traditional Hungarian patterns. Would you tell us which items are the most popular? 
ZEMA is a new, rising brand which works according to three main aspects: value creation, quality, and sustainability. All appear in every item ever created under the ZEMA name, all around the world. Whether it is a fashion week, an exhibition or a show, the collections always make a hit every time.
The brand is a well-liked present in diplomacy, sport diplomacy and cultural events. We are proud that besides our own designs, we have the opportunity to create award cups such as "Sportsperson of the Year" and several others alike that.
Our cuff links are quite popular, they can display logos and patterns as well. They are among the few jewellery pieces designed for men which are accepted and welcomed by functionaries and dignitaries too. Moreover, those items have flexible production, so their popularity is continuously growing.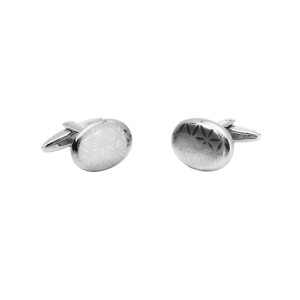 ZEMA pieces are often given as gifts to dignitaries from the fields of diplomacy and protocol. What was your most memorable "official" order?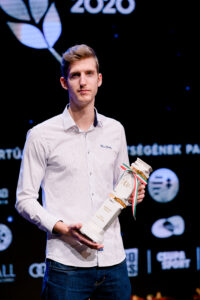 The brand is proud to have diplomat clients from Japan, China, the U.S., and many culture fans own ZEMA products from the Baltic States. The wife of the President of Azerbaijan, Zinedine Zidane, also owns ZEMA Jewellery. We also worked with the Art Nouveau Museum of Riga (Capital city of Latvia): we had a ZEMA show in the building, and one of our Art Nouveau-style necklaces is now part of the museum's collection.  Embassies often organise official tours to our showroom in Budapest or to our manufacture in Pálháza. They also regularly order personalized protocol gifts decorated with the colours and motifs of the given country.
After many years of hard work and impressive accomplishments, what are you most proud of? What is next for ZEMA jewels?
The long-term goal of ZEMA – something that we have been working on for a long time now- is to make our jewellery pieces available in many countries in the world: we would love to see a lot more happy, satisfied customers wearing ZEMA pieces and sharing our love with the brand. We also recently got the news that the brand got the "Outstanding National Value" title in Hungary, which we are also incredibly proud of!
If you would like to learn more from ZEMA, please visit www.zemajewels.com