Para leer el artículo en español, clicar aquí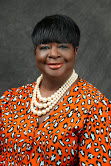 Jamaica and Austria seemingly do not have much in common; for starters, they are located on different continents and have different national languages. Although, they are similar in one, very important detail: they both play an important role in Ms. Lawrence's career. Phillipa Lawrence is one of the most accomplished protocol professionals in the field today: she served in the highest protocol-related positions in several consulates (First Secretary at the Embassy of Jamaica in Washington) and organisations, including Chief of Protocol at UN Office in Vienna. She is a devoted advocate of initiatives supporting women and works closely with the International School of Protocol and Diplomacy (ISPD). Her amazing career speaks for itself: she is an excellent example of the saying "If there is a will, there is a way"!
When did you decide about pursuing a career in protocol?
Since I was a child, I have always been interested in etiquette and protocol which was instilled in me through my parents. I developed an interest in international relations and diplomacy and pursued studies in that area at university. When I became a diplomat and joined the Jamaican Foreign Service, I served in the Protocol and Consular Division and got great satisfaction working on ceremonies and high-level visits and performing protocol duties. This experience in the Division opened my eyes to the ceremonial and etiquette framework within which diplomacy and international affairs takes place and the importance of this structure in facilitating collaborative relations, solving of conflicts and disputes and ensuring that everyone is treated equally. Moreover, this experience also demonstrated to me the role of protocol in promoting collaborative relations in advancing foreign policy imperatives in a peaceful and constructive manner. That was when I decided that if I ever had the opportunity to branch out from foreign policy, I would pursue diplomatic protocol and etiquette.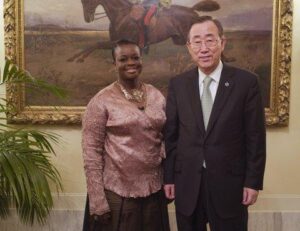 How did you find yourself in Vienna, far away from your homeland, Jamaica?
It has always been a life goal to live in as many countries as I can to experience the culture, customs, and lifestyle. My professional travels began when I started the Foreign Service and as a Junior Officer, I was sent to Australia to receive my diplomatic training. After a few years of being in the Service, I was appointed the First Secretary at the Jamaican Embassy to the USA in Washington D.C, followed by Alternative Permanent Representative of Jamaica to the Organisation of American States (OAS), also in Washington DC and then Deputy Chief of Mission at the Embassy of Jamaica to Mexico. This was followed by being appointed Deputy Programme Manager for Foreign Policy at the Caribbean Community (CARICOM) Secretariat in Georgetown, Guyana. I was promoted to work in the Cabinet of the CARICOM Secretary-General as Protocol Officer where I was tasked with all protocol and ceremonial activities concerning the Secretary-General, as well as developing a Protocol Manual for CARICOM. It was while I was serving in this post that I was encouraged by a friend to apply for a job at the United Nations and I was called for an interview for a job that I had applied for, and I was successful and offered the job as Chief of Protocol at the United Nations Office at Vienna. I was thrilled to move to Vienna, the seat of diplomacy and the home of the Vienna Congress of 1815 and the Vienna Diplomatic Conventions of 1961-63. I fell in love with Vienna with its culture, the people, its customs, cuisine and magnificent architecture and the exciting history as the seat of the Austro-Hungarian Empire. It has been by far one of my most treasured duty stations and I will forever cherish the memories.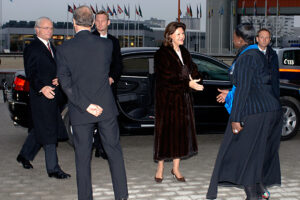 Diplomacy is still mostly dominated by men. What were your experiences, as a Jamaican woman, especially working in Europe and also in Jamaica?
Even though diplomacy is still dominated by men my experience as a Jamaican woman in the field of diplomacy is that more women are coming to the fore. For instance, in the Jamaican Foreign Service, we have as many female as male Ambassadors and we have a female Foreign Minister. At the United Nations they have achieved 50 percent parity in the male/female ratio for women in senior positions in the organisation. Globally there are an increasing number of female Ambassadors. Men in diplomacy are becoming more sensitised to dealing with female colleagues and are increasingly gender sensitive and respectful of their female counterparts. For my part I was treated as an equal amongst my male peers and enjoyed mutually beneficial and rewarding encounters.
Ladies as leaders: always a complex subject. In the book called 'Worldproof Leadership' you say that Jamaica is one of the few countries where women take greater positions in leadership. Could you give us a little insight on that?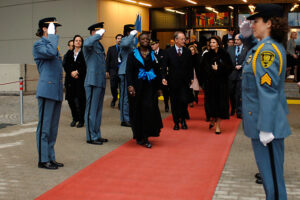 According to the ILO Report Women in Business and Management 'The Caribbean is a world leader for the share of women managers, with 8 out of 11 countries reporting that 40 per cent or more of all managers are women and Jamaica reporting the highest proportion of women managers in the world at 59 percent.' So indeed, you are more likely to have a woman manager in Jamaica than any other country in the world. I wish to applaud Jamaica and Jamaican women for the remarkable achievement attained for being recognised as the country with the most female managers in the world. Jamaica has outshone itself in many fields and set many records for the world to emulate. The year 2015 started off with this historic and record-breaking milestone of being the country where, according to the International Labour Organization (ILO), just under 60 per cent of our island-nation's management force is female, the highest level anywhere in the world. Jamaica has now placed itself as the epitome of women's empowerment and gender equality and has set a strong example of what women are able to achieve. This is an outstanding accomplishment to be celebrated. It speaks to the excellence, strength and tenacity of our Jamaican women and to a country which has achieved gender parity at a time when many countries are struggling to do so. We stand as an example for the world to emulate and at the forefront of the international cause for women leaders, breaking barriers and shattering the glass ceiling. History is replete with many examples of Jamaican women who have achieved tremendous success in their fields of endeavour, and we salute and applaud the Jamaican woman for what they have achieved and will continue to achieve. I am a proud Jamaican woman!
Looking back at your career so far, what are you most proud of?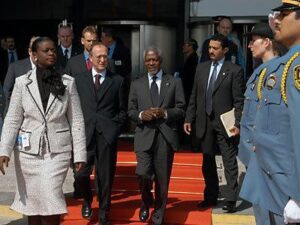 Looking back at my career I am most proud of the ceremonial protocol activities that I conceptualised, implemented and coordinated especially during my time in Vienna. This involved coordinating visits of the United Nations Secretary-General of which were H.E Mr. Kofi Annan and H.E Mr. Ban Ki-moon. Additionally, I am also most proud of the high-level visits of H.E Heinz Fischer, the former President of Austria, H.E Mr Wolfgang Schussel, the former Chancellor of Austria, H.E Mr. Lech Walesa, former President of Poland, H.E Mr Hamid Karzai, the former President of Afghanistan and the visit of the King and Queen of Sweden. I had the opportunity to meet many other members of Royal Families including Thailand and Saudi Arabia, Heads of State and Government from all over the world, as well as Foreign and other Ministers and high-level dignitaries and each was very special to me.  Another assignment that stood out for me was the naming of the Kofi Annan Building at the Vienna International Centre which houses the UN agencies in Austria. What is important in these ceremonial undertakings is the teamwork and support from colleagues and the relationships and friendships that developed in executing these assignments which would not have been a success without the support, and I will always cherish.
With such an extraordinary career already, what are your future plans?
Having had a career in foreign policy and diplomacy with a focus on diplomatic protocol and etiquette, I see that it is necessary to build the capacity of foreign service officers and international civil servants in protocol as it is the core of diplomacy, and it is important that we develop skill sets in protocol to advance diplomacy and etiquette internationally. Through my teaching at the UN Institute for Training and Research (UNITAR) and the International School for Protocol and Diplomacy (ISPD), I have been able to lecture and guide professionals pursuing international affairs and careers in diplomacy from over 50 countries in the world in the basic elements of protocol. I have taught professionals in Europe, the Middle East, Africa, Latin America and the Caribbean and Asia and I look forward to continuing to work in this area so that I can make a significant impact on the upcoming generations in the field. 
Additionally, there are emerging issues today which are impacting the way protocol is delivered and as we respond to these emerging issues, such as Covid 19, we have to transform the way we deliver protocol and continue to develop authentic and meaningful diplomatic interactions. Close to my heart is the desire to share my experiences gained and learned throughout my career by publishing on protocol detailing ceremonial and protocol practices and procedures and etiquette. 
What advice would you give to young girls, planning on making a career in protocol or diplomacy?
My advice to young girls planning on making a career in protocol and diplomacy is to develop skills in foreign policy, political science, and diplomacy by pursuing these courses in their education. Also today there are many diplomatic protocol courses available, as well as books on diplomatic etiquette to which they have access and they should take the time to read as much as they can and pursue careers in the international arena where they will be able to put their skills to use.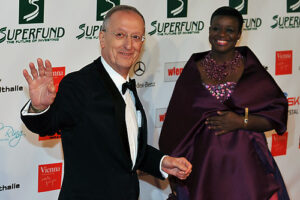 Also important is to learn at least two languages which will make you more accessible to the field of international affairs and open doors to new and dynamic prospects where they will be able to put what they have read and learnt into practice. With a lot of opportunities for internships in international organisations this is a good way to start to determine what aspects of diplomacy, protocol and international affairs are most suited for their skills. Young girls should be focussed on their goals and be strong in their determination to pursue a career in protocol and diplomacy.