For eight years Patrick was Princess Diana's private secretary (chief of staff), responsible for every aspect of her public life and private organization.  He travelled with the Princess to five continents, working with officials up to head of state and encountering unforgettable figures in politics, philanthropy and the arts such as Hillary Clinton, Margaret Thatcher, Mother Teresa, Bono and Luciano Pavarotti.  Under relentless media scrutiny, his tenure covered the period of Princess Diana's greatest popularity as well as the constitutional controversy of her separation from Prince Charles.   
He is now a consultant, journalist, broadcaster and New York Times bestselling author, based in Washington DC.  His byline has appeared in every UK national newspaper and international titles as varied as TIME magazine, Vanity Fair, People, Frankfurter Allgemeine Zeitung and Paris Match.  
A published authority on corporate and personal branding, Patrick equally enjoys coaching C-suite executives, advising UHNWIs on reputation management and addressing PR conferences worldwide. Having worked for an internationally high-profile woman, he feels a special affinity for cross-cultural, protocol, gender and communications issues.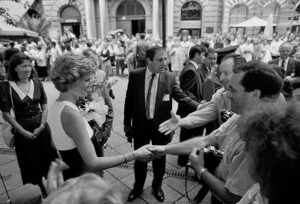 He also writes, presents and advises on factual and drama TV programs, appearing on every major US network.  He is currently an expert consultant to the award-winning Netflix series The Crown. 
Inside a royal aeroplane there's a special kind of excitement as the doors are about to open.  If it's for the start of a big foreign tour – if there is a president waiting at the bottom of the steps and the world's press penned on the tarmac – than the excitement verges on the hyper.  The difference is…. nobody can express it – not by a raised voice, not by a shaky hand, not even with a look.  If you're the person in charge only the pounding of your heart tells you that your whole career may depend on getting the next few moments right.
It's time for your Protocol A Game.
If you could bottle that kind of suppressed energy, you'd be a billionaire.  In my eight years with Princess Diana, organising tours all over the world, I sometimes thought we were addicted to the stuff.
Once, when we were flying to Egypt in a royal aircraft for a high-profile official visit, I almost had an overdose.  It had been a difficult flight.  In Diana's personal life, tensions were running high.  Still wearing her customary in-flight baggy jumper and leggings, her hair was tousled, her makeup awry and there was no disguising the tears in her eyes.   She was anything but the confident, charismatic Princess who was expected to step off this plane and into tomorrow's headlines in less than an hour from now.
As occasionally happened, I even began to doubt if my boss was going to manage to pull herself together and once again perform as the flawless royal icon her duty – and public expectation – demanded.
But, as many people failed to appreciate, there was real steel in Princess Diana.  With a final sniffle into her handkerchief, she got out of her seat and disappeared into the powder room.  As I still wondered if she would recover in time, the plane began to descend.  My spirits sank even lower.
I needn't have worried.  Suddenly the Princess was back in the cabin.  She was transformed: a vision of energy in haute couture, skin glowing, eyes sparkling and not a hair out of place.  She smiled at me.   "Don't worry Patrick, I won't let you down!"  Then she pressed the bell and asked the Steward to serve champagne.  For everybody. She knew the importance of a happy team!
The footage of Diana getting off that plane into a blaze of flashbulbs in the warm Egyptian night appears in several documentaries about her life and travels.  I'm there too – younger, thinner and with no grey hairs.  I'm standing just inside the aircraft door, looking at the Princess with a grin that – from this distance in time – looks a bit cheeky.  Ah well.  That's the trouble with seeing yourself on TV…it's like all your worst home-movie moments rolled into one.
With hindsight, I think the expression on my face was caused by two things.  One was the effect of all that suppressed excitement – it plays hell with your face muscles.  Second was the feeling of relief I always felt when I saw that we were (a) in the right country, (b) I'd remembered the name of the government minister who was waiting to shake Diana's hand and (c) that somewhere at the end of the red carpet there was a limousine waiting to whisk her off to the good night's sleep she needed.
To which I should add a third factor.  Everybody coped with the after-landing tension in their own way.  Diana's dresser and butler would get busy preparing the cabin baggage and hanging dresses for a rapid exit to the special car I'd arranged to meet them at the other door.  The policemen would try to make their walkie-talkies work and check they had all the mysterious bulges under their jackets in the right order. The Lady in Waiting would practise looking cool and elegantly demure – something they all did very well.
The press secretary would crick his neck looking out of the porthole to see if the media were properly marshalled for the arrival shots.  The doctor would collect his little black bag and tenderly prepare the blood fridge for offloading.  The cook would finish writing his postcards.  The baggage master would stretch his arms and crack his knuckles in preparation for the exertions about to begin as he climbed into the cargo hold to take charge of our mountain of baggage. The secretary would put her shorthand pad back into her handbag and carefully file away a vital sheaf of itineraries and briefing papers.
So, what was Diana's routine that put that look on my face?  She'd pat her hair, pull down her jacket and straighten her skirt. She called out to her team "Everybody ready?  Too late if you're not…"  Then she'd square her shoulders and, as she passed me, she smiled.  "Just another episode in the everyday story of royal folk…!"  Then she was off down the steps and into the royal routine she had taught herself to play to perfection.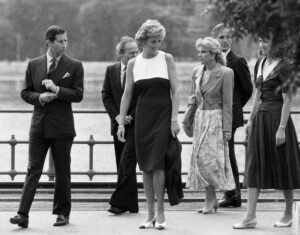 Even when I joined the royal payroll a year or so later, most tours were still carried out by Charles and Diana together.  Kuwait, Bahrain, Dubai, AbuDhabi, Saudi Arabia, Indonesia, Hong Kong, Hungary… the pace was hectic.  They were practised royal performers, reconciled to doing their duty in public and leading largely separate lives in private.
But to see them work the crowd in a busy Hong Kong square, to watch them charm diplomats and businessmen at a reception or to feel their genuine compassion for a group of disabled children was to witness a world-beating double act.   It wasn't hard to be proud of our archaic royal system when you saw Charles and Diana on the deck of the Royal Yacht Britannia waving to well-wishers as the Royal Marines band played A Life on the Ocean Wave.
Even then, Diana tended to draw a disproportionate amount of attention.  She couldn't help it.  Whether it was Australian schoolchildren or a troop of native dancers, it was Diana's name that always seemed to be called out the loudest.
But there was a magic about her that went beyond a bright smile and some snappy clothes.  Watch the footage of Diana and Charles arriving at Budapest airport in 1990.  During the playing of the national anthems, as the guard of honour presents arms and the men stand stiffly to attention, unseen by anybody the wife of the Hungarian president is silently weeping with emotion.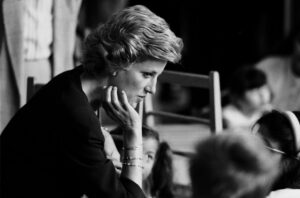 Unseen by anybody except Diana.  In a heart-warming gesture the Princess quietly takes her hostess's hand and comforts her during the rest of the ceremony.  It's a gesture of instinctive humanity beyond the dreams of the smartest PR advisor.  That was typical of the Princess's gift for the job she had been given.
After her traumatic separation from Prince Charles in 1992, like a butterfly shedding her chrysalis, Diana found that her new life as an independent royal operator allowed her to spread her wings.  As her private secretary I was in charge of all her public engagements and soon I was crisscrossing the world setting up overseas working visits and then doing the journey all over again, this time at her shoulder to see that everything worked smoothly.
There could be as many as 25 foreign visits in a single year.  Destinations soon began to look like something from a world airline directory: the USA, Russia, France, Germany, Italy, Japan, India, Pakistan, Egypt, Zimbabwe, Argentina… I seemed to be constantly packing and unpacking my suitcase, worrying about protocol and wrestling with the logistics of the Diana roadshow.
Remembered with special affection was a return to Budapest in March 1992.  She renewed her friendship with President and Mrs Goncz and also went back to the Peto Institute which she had first visited during the 1990 tour.  The children, families and staff at this most special of healing organisations made a deep impression on her.
That evening, as Patron of the English National Ballet, she attended a triumphant gala performance at the State Opera House to honour the company's celebrated artistic director, Hungarian Ivan Nagy.  I'll never forget the emotion as he stood centre stage with his smiling dancers, waving up to the Princess in the Royal Box, while the audience cheered and applauded.
Next day the emotion was of a different kind as the Princess visited the refugee camp at Nagytad.  It was one of the most humbling experiences of my royal career: the camp was a place of safety and recovery for thousands of desperate refugees in need of sanctuary from the war in the former Yugoslavia, yet the mood of suffering and despair was almost overwhelming.
An official told me of an elderly gentleman at the point of death who was waiting to meet the Princess before he passed.  Diana spent extra time with him, sitting on his bed and holding his hand.  With the help of an interpreter, they shared a hushed private conversation.  Then, as the Princess rose to leave, I saw him turn to face the wall with an air of finality, happiness and resignation both visible on his careworn face.  Before Diana left the camp, word came that he had died.
A world away from Nagyatad, but typical of the contrasts which were our daily professional challenge, New York was a frequent destination – a city with which Diana seemed to enjoy a relationship of mutual admiration.  On her first solo tour – in 1989 – she visited the Harlem Hospital Center in one of the city's toughest neighbourhoods and changed the world's perception of AIDS by cradling in her arms a baby who was dying from the disease.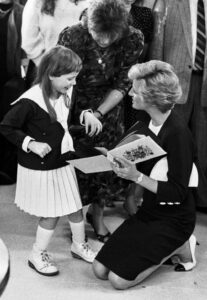 Speaking fifteen years after the event, one of the hospital's doctors spoke to me movingly of the incalculable benefit of Diana's simple, symbolic act. This was typical of the kind of humanitarian work to which she felt drawn instinctively.  Along with so many other achievements in her short life, we should remember the Princess as a force for enormous good as she helped change attitudes to controversial causes such as drug abuse, mental health issues, leprosy, AIDS and landmines.
Amazingly, she seemed to thrive on even the most daunting and psychologically demanding visits.  Giving hope to those in desperate need or drawing attention to the plight of those at the bottom of the pile were part of her special vocation.  She knew such visits could produce tangible benefit from her global public profile. She invested huge amounts of her own emotion in the task and re-wrote the royal book of etiquette in the process.
Somehow, even without the emotional support of a happy marriage, she managed to draw on deep reserves of compassion and determination within herself.  She would respond with warmth and an open smile to sights that had me dumb with shock and pity.  Afterwards, she would often express her emotion in laughter, bad jokes, singing and – occasionally – irritation over some administrative glitch, real or imagined.
Very rarely, the suffering she encountered would slip through even her emotional coping mechanisms.  I remember bedtime in an African AIDS orphanage.  The children – little more than toddlers – had all lost their families to the disease.  They themselves would all be dead before their sixth birthday.  Diana watched as the children were gently put to bed by the nuns who cared for them.  She helped tuck some of them in… and as the nuns helped them say their prayers Diana had to look away.  I saw the tears on her cheeks.
Of course, there were many lighthearted moments.  I have a particularly poignant memory of the last foreign visit I made with Diana.  Appropriately, it was to New York where she was receiving a humanitarian award from Dr Henry Kissinger. It was an evening of true Manhattan glamour as 1500 guests packed into the Hilton ballroom.  Later, when I escorted her back to her suite in the Carlyle Hotel, she invited me in for a glass of champagne.  It was a typically thoughtful gesture and as we looked out at the night-time skyline of the world's most exciting city she was in reflective mood.
We admired her humanitarian award – a lump of heavy glass on a granite base.  I said to her: "All these years I've been flying around the world telling people you didn't accept awards – your job was to hand them out.  But I think you were right to accept this one.  You've certainly earned it."
"Oh no, Patrick" she replied.  "I don't deserve this.  But I am working on it!"
Much as I enjoy reminiscing about the privilege of working for Princess Diana, I have also drawn some practical conclusions about how to make protocol work in the 21st Century.  Here are some of the lessons I learned:
Protocol is human interaction – embrace it! 
There's a useful definition of protocol: "A system of rules about the correct way to act in formal situations."  But as we all know – to borrow another definition – "rules are for the obedience of fools and the guidance of wise women (and men)."
In other words, protocol might be learned by a machine – in fact artificial intelligence would probably find it easy – but the key to successful protocol is to recognise the human factor.  People don't act like machines, especially in stressful circumstances.  They fret and shuffle, they fluff their lines, and they forget their stage directions.  They turn up early – or late.  They arrive in the wrong place, in the wrong outfit and without their carefully prepared speech.
Real protocol – the kind of protocol that gets results – is never fazed by such problems.  Instead, it seamlessly adapts them to achieve a successful overall outcome.  Good protocol leaves everybody feeling good, even if they didn't get everything word-perfect.  It's emotional.
You need to develop some key "protocol Instincts" 
There can't be a protocol rule for every eventuality, so you have to be able to improvise effectively.  That requires an instinctive understanding of what will work and what won't.  Developing reliable protocol instincts first demands a soild knowledge of protocol rules.  There's no shortcut: you have to know how things are supposed to be done before you can adapt the rules to suit unforeseen circumstances.
This also requires being alert to the codes used by specific organisations to govern behaviour – and that counts for geographical and cultural differences too.  Whatever the location, protocol provides a sense of continuity so that events share a connection with each other and with a common memory of "how things should be done."  For example, when calling on the Emperor of Japan Princess Diana performed a flawless deep curtsey (not easy in stilettoes!) thus complying with universally-recognised protocol norms.  But she also observed relevant conventions for visitors to the Imperial Palace and more generally for anybody wishing to exhibit respect  forJapanese culture.
Well-developed protocol instinct will recognise variable factors like appropriate wardrobe choices – hemlines, auspicious colors etc. – as well as the positioning of support cast such as security, media and interpreters.
If in doubt, you can't go wrong by remembering that good protocol is characterised by
Humanity
Courtesy
Efficiency
Good protocol is communication, and you have to control the story 
We're all familiar with the need to communicate on multiple platforms: print, broadcast, digital etc.  Protocol is just another channel of communication and you can use it to send messages.  Typical traditional messages might include welcome, solidarity, respect or historical continuity.  But proficient protocol practitioners can adapt the language of protocol to convey a variety of meanings.
For example, after 9/11 Queen Elizabeth had the traditional music program at the changing of the palace guard changed to include The Star-Spangled Banner as a gesture of sympathy to the American people and support for the United States.  We have seen how Princess Diana deliberately departed from the standard protocol of the airport arrival in Budapest to express spontaneous compassion.  And many will recall Pope John Paul also making a calculated protocol "mistake" by kneeling to kiss the ground on disembarking as a first act of respect and humility on arriving in a new country.
With practice, you can make deliberate and carefully calibrated "spontaneous" changes to standard protocol to enhance a brand identity, display emotional authenticity and create a human connection.  Remember: good protocol doesn't inhibit human connection, it facilitates it.
Practical Protocol means no surprises… and no embarrassments! 
Although prorocol can be adapted to communicate a specific message, that is obviously an art to be practised sparingly.  One of the reasons protocol evolved was to remove the element of surprise from potentially volatile encounters.  Protocol's greatest strength is its predictability so it's essential that everybody with even a minor role in a protocol event understands the stage directions.
This places a special burden on those of us tasked with briefing principal participants especially those – corporate CEOs for example – whose habitual skillset doesn't extend to set-piece public occasions.  Along with other kinds of threat – physical danger, reputational hazards, social awkwardness or professional mis-steps – participants must also therefore be protected from simple personal embarrassment.  And, depending on the personalities involved, that isn't always simple – a good reason why protocol walks hand in hand with diplomacy.
Stay ahead of the game: make the effort – win the advantage 
To sum up: good protocol looks effortless but make no mistake, it's a lot of hard work.  Get it wrong and it can be a career-shortening event for you and those who depend on you for reliable advice.  But get it right and protocol can unlock an infinite number of useful doors.  It can influence key outcomes, avert catastrophe and set the seal on success.  For those of us responsible for effective protocol events, there's an opportunity to take the lead in key planning interactions.  We should welcome the chance to take charge of protocol decision-making – remembering always that taking charge is very different from taking over.
As I learned with Princess Diana, good protocol is like great theatre or great ballet: it always directs the spotlight to where it belongs – showing the stars of the show in the best possible light, and keeping the supporting cast out of the camera shot!