The Sustainable Development Goals towards a Rescue Plan for People and Planet are the universally-agreed road map to bridge economic, environmental and geopolitical divides, restore trust and rebuild solidarity. The need to promote social change as an approach to delivering and achieving the Global Goals for Sustainable Development by navigating brand transformation and the pillars of brand sustainability is now paramount and a call for action.  In this age of polycrisis, climate change, conflict, the lingering effects of the COVID-19 pandemic and other global challenges threatening to derail hard-earned progress towards the SDGs. Delivering or commitment where do we stand half way to 2030. The defining principle of the 2030 Agenda for Sustainable Development is a shared commitment by every country to work together to secure the rights and well-being of everyone on a healthy, thriving planet.
Director of the International Centre for Protocol and Diplomacy (ICPD), Patricia Kenneth-Divine, noted this in her opening remarks during the recently-concluded Global Protocol and Diplomatic Conference 2023, hosted at the Institute for Government in London, United Kingdom.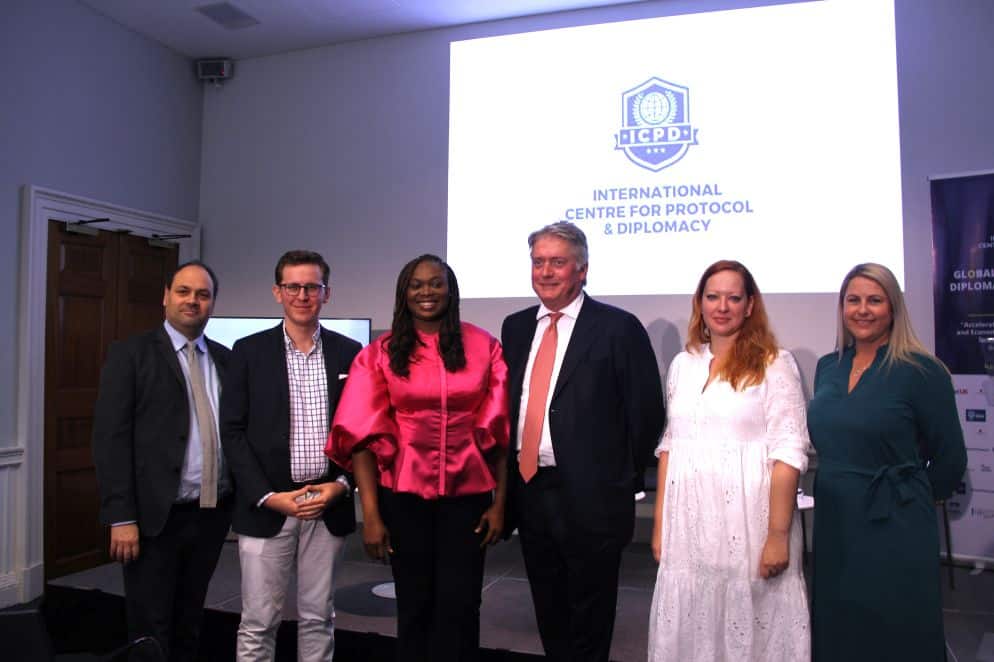 The event, which gathered Industry Diplomats, Experts practitioners, Business leaders, professionals and innovators for a full day of insightful discussions, collaborations, and networking, Kenneth-Divine said, was to utilize brand transformation, Brand Sustainability and economic power to foster the achievements of the SDG 2030 Agenda.
The conference which also focused on the role of aligning brand purpose, investment and trade and diplomatic strategies in delivering the SDGs, also featured outstanding global organizations, who were represented by their chief executive officers, executive directors, managing directors, heads of policy/economics, programme directors, diplomats, among others.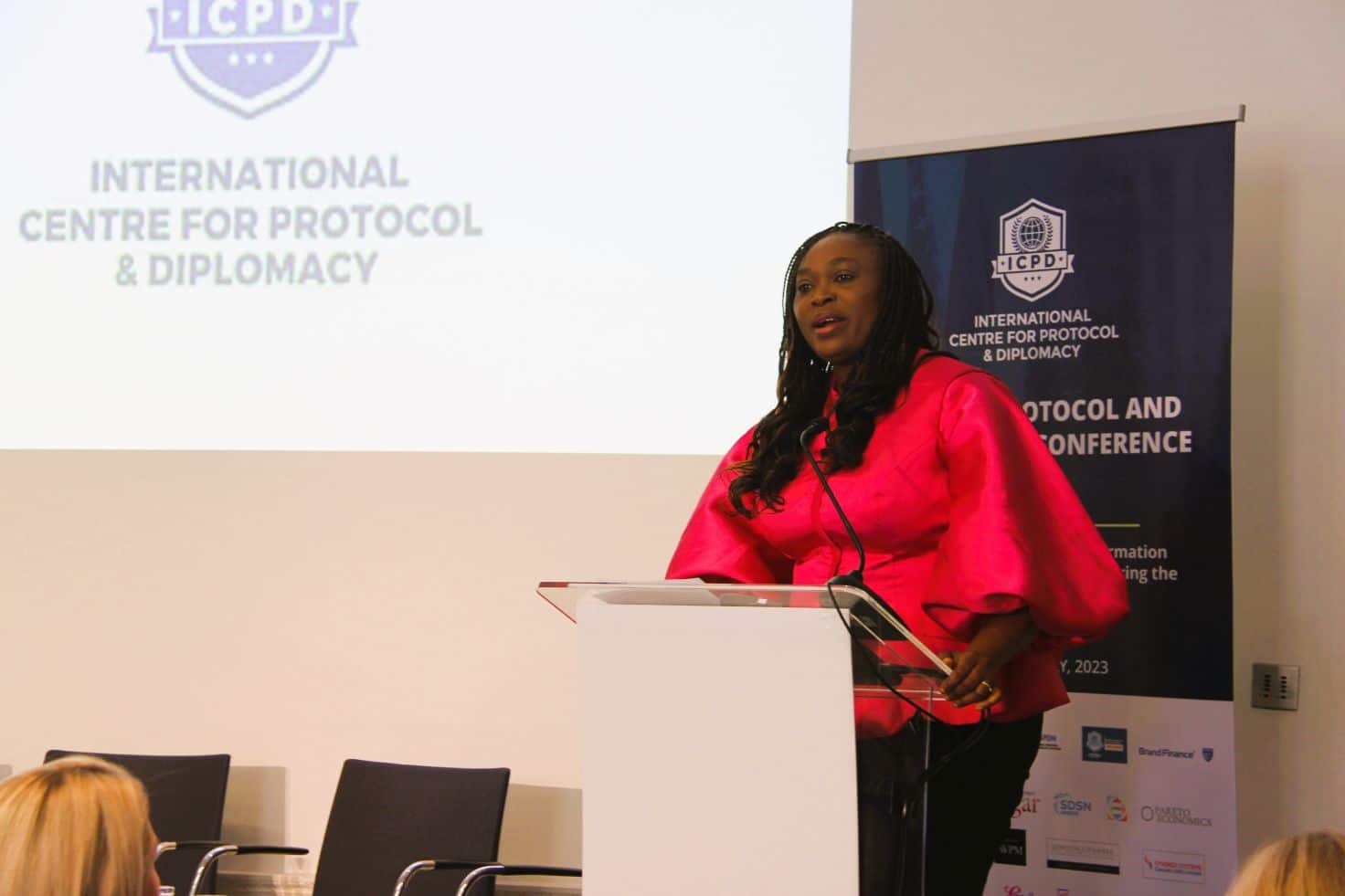 While elaborating the role of diplomacy in achieving the SDGs, especially as people reflect on the opportunities around sustainable investment, education, learning and development, climate change, international trade, cross-border education, soft power, digital transformation, intercultural and artificial intelligence, among others, Kenneth-Divine, said: "As a leading global platform for protocol and diplomacy, promoting the achievements of the SDGs have become our priority, creating more awareness among SMEs, stakeholders , private and public sectors.
As stated on the Sustainable Development Goals Report 2023, shows we are leaving more than half the world behind. Progress on more than 50 per cent of targets of the SDGs is weak and insufficient; on 30 per cent, it has stalled or gone into reverse. These include key targets on poverty, hunger and climate. Unless we act now, the 2030 Agenda could become an epitaph for a world that might have been.
Hosted in partnership with Global Chamber Uk and Fingar Direct Investment, The Conference featured outstanding global organisations who were represented by their CEOs, Executive Directors, Managing Directors, Heads of Policy/Economics, Programme Directors, Diplomats etc Presentations where delivered from InvestUK, Institute For Government, United Nations Global Compact Network, Brand Finance, Sustainable Development Unit – ATHENA RC, UN Sustainable Development Solutions Network – Greece, International Centre for Research on the Environment and the Economy, Worcester Business School, Crestview Strategy, Lumsa University, London Chamber of Commerce and Industry, Embassy of Czech Republic/ Association of Economic Representatives in London and SustainableX
Industry Experts during the conference shared their thoughts to appraise the current situation. Sustainable Finance and Economic Growth is relevant in the fore front of the SDGs and discussing this, Rupert Gather, Executive Director of InvestUK sees the big impact of Sustainable Investment as a Driver for Economic Development. Transparency in Sustainability Development is key and should be reflected on the global ranking on the Ease of Doing Business.
As stated on the Sustainable Development Goals Report 2023, shows we are leaving more than half the world behind. Progress on more than 50 per cent of targets of the SDGs is weak and insufficient; on 30 per cent, it has stalled or gone into reverse. These include key targets on poverty, hunger and climate. Unless we act now, the 2030 Agenda could become an epitaph for a world that might have been.
Much can be achieved if countries secure their own interest through active consumer market, technological Leadership, financial strength etc through Global Power Index and the Centres of the Power Model, Driving Trade and Economic Development.  These were agreed as the panel discussions tackled relevant barriers around Trade and investment. Global Index Expert Klisman Murati,Pareto Economics shares similar thoughts.
One of the key areas for action is that Governments should advance concrete, integrated and targeted policies and actions to eradicate poverty, reduce inequality and end the war on nature, with a focus on advancing the rights of women and girls and empowering the most vulnerable. The UK economy is legally bound to achieve net zero carbon emissions by 2050 and reduce carbon emissions by 60% by 2035 from today's levels. The Mayor of London has also set ambitious aims for London to be a zero-carbon city by 2030. This means businesses and industry will have to act now to reduce their carbon emissions accordingly.
According to the Global Sustainable Development Report (GSDR) 2023, SDG 17 strengthen the means of implementation and revitalize the Global Partnership for Sustainable Development targets sufficient access to science and technology, financial resources, fair and equitable trade and capacity for bringing about change. The Partnership between the London Chamber of Commerce and Industry and The African Union, in the testimonials of James Watkins, Head of Policy and Public Impact gives evidence of good Global Governance systems and a diversified market place.
Transformational Governance and the Sustainable Development goals is essential to Sustainable and Profitable Environment for Business, Investment, Government, Civil Society, multilateral Institutions. Therefore, Conventional Governance, Sustainable Governance and Global Governance are potential key to achieving the SDGs and highlighting this further, Executive Director, Steve Kenzie of the UN Global Compact Network, Uk  points to the direction of SDG goal 16 which underpins Transformational Governance, Business are beneficiaries of  and contributors of peace, justice and strong Institutions, which are building blocks for achieving the SDGs and towards all other SDGs.
The role of Glocalization the growing importance of continental and global levels is occurring together with the increasing salience of local and regional levels. This has become paramount to achieving the SDGs especially empowerment of the development world, diversification on Investments and Trade. Sustainable Development Diplomacy aimed at identifying and developing Public–Private Partnership opportunities within indigenous communities
The world's leading independent brand valuation and strategy consultancy, Brand Finance, Kevin Woods, Senior Research Director provided statistics of business impacts of strategic branding decisions in terms of Brand Positioning. Sustainability drives National Reputation, ESG linked Soft power attributes accounts, and drives more that 40percent of National Reputation through Environment , Social and Governance based capabilities, It also accounts for increased International Relations, Business & Trade, Political Influence, Talent Acquisition and Retention.
THE AWARD SEGMENT: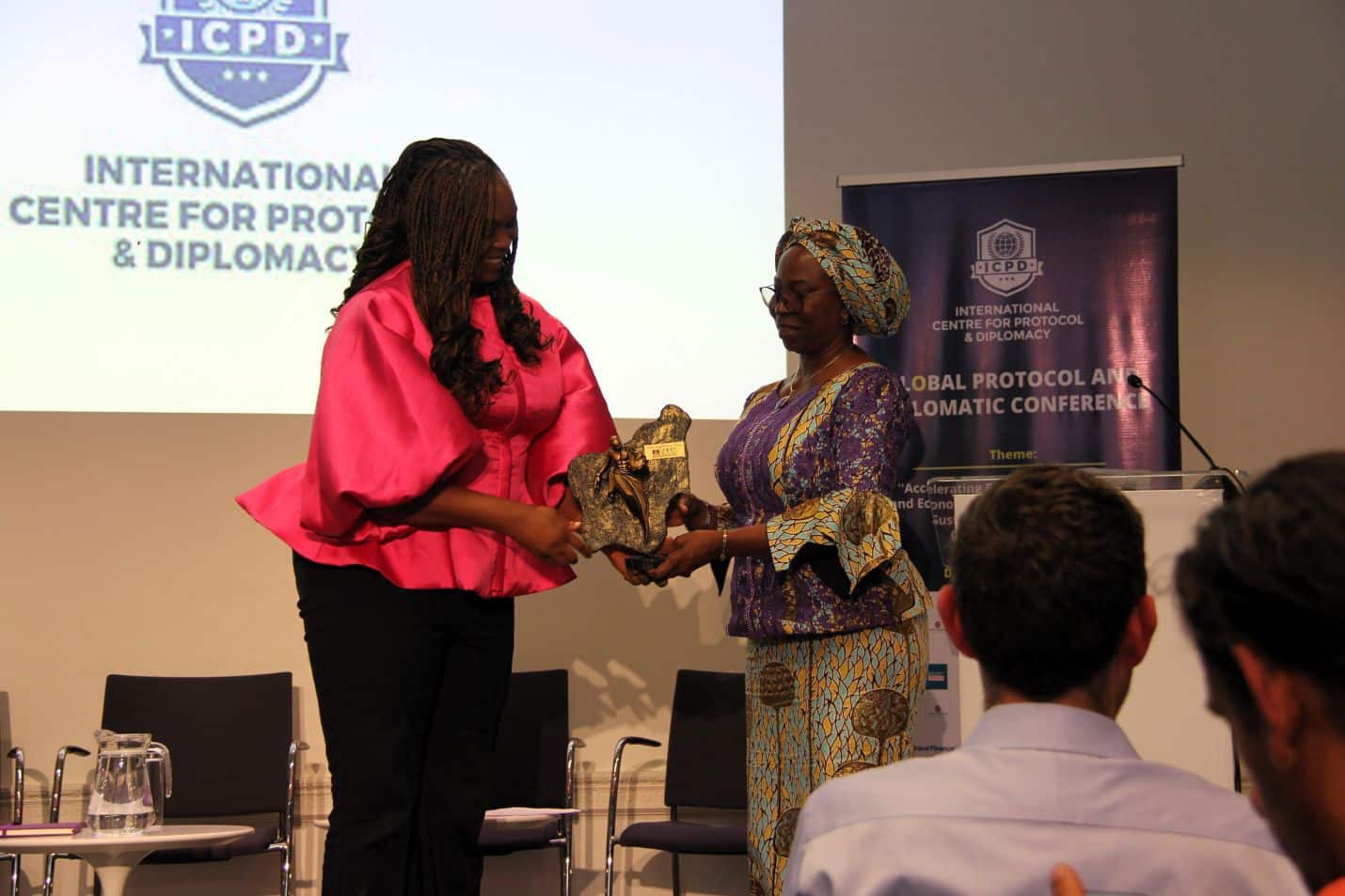 During its award segment coordinated by Emeka Ihumezie, Founder Tourism-4-Food UK, MD Horecan the session witnessed the issuance of certificates of attendance by Francesco Augenti (UK Diplomacy & Crises Management expert) to officers and agencies who completed the Global Leaders' Transformation Programme on Strategic Leadership Management in Diplomatic Protocol and Corporate Diplomacy in Finance Management, organized by ICPD.
Others awarded during the conference were Fingar Direct Investment, for Achievement in Economic Development Advisory; Brand Finance for Achievement in Building Nations Brand and Global Soft Power. The Federal Airports Authority of Nigeria (FAAN) for contributions towards Achievement in Sustainable Leadership,
The Global Chamber London was awarded for Achievement in Global Partnership for Sustainable Development, which was received by Executive Director, Katie Keith and also moderator for the conference.
H.E. Tejendra. S. Poudel, Honorary General Consul to Nation of Hawai'i For Nepal, Delegate to Global Chamber of Business Leaders for Nepal on the Achievement Towards Promoting World Peace Global Impact and Em Bartels for Achievement towards promoting quality Education and Learning opportunities  among others.