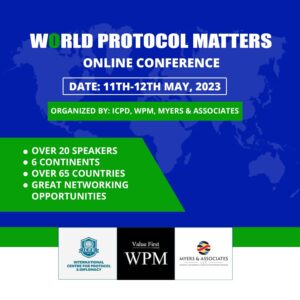 In the recently concluded World Protocol Matters Online Conference on "World Protocol Leaders (WPM) 2023" – Building Tomorrow's Leaders, diplomats, professionals, and protocol leaders from over 55 countries gathered to discuss the expansiveness of the protocol profession and the strategic value of the field beyond operational and tactical levels. These discussions framed the conversation around the need for a more formal practicum.
The two-day online conference, hosted by the organizing partners International Centre for Protocol and Diplomacy (ICPD), World Protocol Magazine, World Protocol Organization (WPM, WPO), and Myers & Associates, LLC, brought together thought leaders, influencers, intellectuals, and skilled professionals to share lessons learned and explore methods to bring a Protocol curriculum to the forefront.
The conference aimed to achieve a global understanding and cooperation and support the initiative to declare May 11 as "World Protocol Day." It also aimed to create an annual conference brand.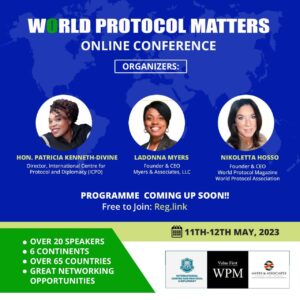 The second edition of the World Protocol Matters Online Conference, led by Nikolletta Hosso (CEO and Founder of World Protocol Magazine and President of World Protocol Organization), Hon. Patricia Kenneth-Divine (Founder and Director of ICPD), and Ladonna Myers (CEO and Founder of Myers & Associates, LLC), featured distinguished guest speakers and experts from various backgrounds in the public and private sectors, including protocol and diplomacy, image consultants, public servants, representatives of intergovernmental organizations (IGOs), non-governmental organizations (NGOs), social entrepreneurs, activists, and high-ranking decision-makers in the multinational private sector.
Over 20 speakers participated in panel discussions, sharing insights on the latest trends, case studies, best practices, and practical guidance to empower global visibility and influence for the advancement of the Protocol profession.
Nearly 400 registrants from more than 55 countries signed up to hear from 20 international speakers on topics highlighting the significance of International Protocol, Business Etiquette, Soft-Power, Soft-Diplomacy, Strategic Communications, and more. Approximately 150 virtual attendees joined each day to learn from experts, share viewpoints, and validate the significance of protocol as a tool to enhance diplomatic relations and build personal resilience.
The outcome of this conference is a call to action to create a framework for joint development of objectives, integrating global policies and practices, and promoting continuous improvement and capacity building. Global standards for improving the Protocol Profession and Image branding were also extensively discussed.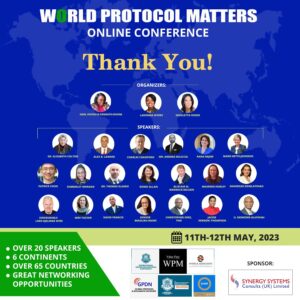 A petition to sign the World Protocol Day was relaunched during the conference, aiming to create global cooperation and unite organizations and professionals in Protocol and Diplomacy, Business, Government, Associations, Sports, and Military, with the goal of reaching UN recognition.
Together, we can create the "World Protocol Momentum," continue the "World Protocol Movement," and celebrate every "World Protocol Moment."
Further information on the conference, including the recorded sessions, please visit https://www.facebook.com/worldprotocolmatters