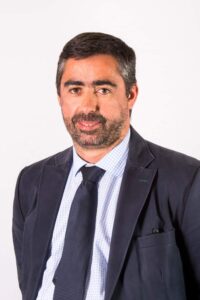 As the World Protocol Magazine Editorial Board, we take enormous pride in keeping this platform open to all experts from the numerous fields of business and protocol: Miguel Macedo, from Portugal is the next of many who have taken the opportunity of working together with WPM.
Mr. Macedo accumulated almost twenty years of professional experience in the field of protocol and events in many different environments including teaching protocol at the School of Hospitality and Tourism. Among others, Miguel Macedo has worked with Volvo Ocean Race, FIFA, and UEFA. Organisation, planning, production, and management of institutional, social, and sporting events, including official events with Head of States, Prime Ministers, Government members, and Diplomats. He served as a protocol officer in Sports in running, sailing, multi-sports and international events.
Mr. Macedo specializes in Protocol Management, Official Protocol, Sports Protocol, Hospitality, Business Protocol Events Protocol, Events Management.
After several years of working in various international sport events I am often asked about the differences between sports protocol and the other fields of protocol and international relations.
Fundamentally, sport protocol is rather similar in a sense that it is intended to organise, communicate and establish the necessary precedence between different entities and institutions. Although, when it comes to international sport events, there are a great number of dignitaries present from different countries and fields, whom we are obliged to treat according to their ranks.
Thus, we usually have state and political dignitaries as VIP guests. Then we receive and accommodate various sports leaders, federation officials, club officials and sports organisations, and sponsors as guests – all having different titles and ranks.
It is crucial to be fully aware of the high-level group we are planning the event for: we need to have a clear vision of the execution first. On the other hand, the vision itself is not enough, we must be prepared to solve any unforeseen issues in a quick and smooth way whenever they may occur during the event.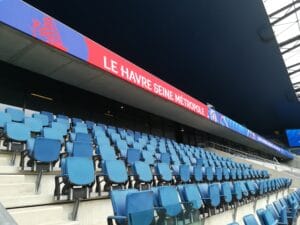 As always, one of the guiding tools to be implemented is the local protocol customs or laws. These applied rules are the ones of the given country that will help understand the precedence among the diverse range of offices and ranks.
In sport we also adhere to the ranking regulations of the concerned international sports federations that organise / host the events in question.
Last, but not least, there is another common practice:  the protocol script created specifically for these sport events. It is rather common to adapt some of the previous events' protocol rules. For instance, nearly all international sporting events receive some sort of state or municipal support:  organisers therefore often end up giving their representatives even more prominent seats than they might be entitled to in normal circumstances.
Another question that often arises: Who is the host of sport events? Who should be the leading figure? Who organises the event, and within that particular organisation who are the people taking on that role? Who ranks second or third in precedence?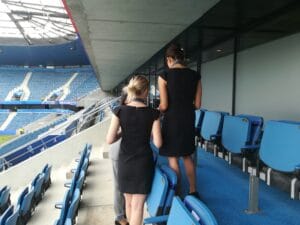 The host is always the organiser of the event. And in such cases, we can easily distinguish the sports events from all others.
In conclusion, sport events should correspond to the idea that above all, the respectful and cordial environment needs to be provided for between all high representatives and VIP guests. The presence of the dignitaries in the audience is ideally treated with respect creating a harmonious atmosphere. Clearly, these situations are always discussed beforehand at the highest level behind the scenes: these are the moments when sport diplomacy prevails.
Therefore, at most international sport events the VIP seating arrangements and zones follow similar precedence to state protocol but with a quite diverse group of guests thus procedures for seating plans varies with every event.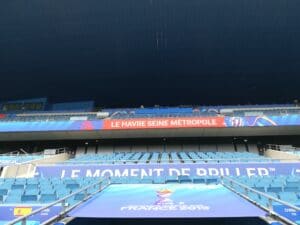 To satisfy all present and comply with protocol rules require extreme care and attention from any protocol team. These seats are in the "power zones" and consequently, in the zones of power demonstration. Protocol serves as a platform to facilitate these high-level events respecting the existing hierarchical orders as much as possible and the actual context of each event and venue as well.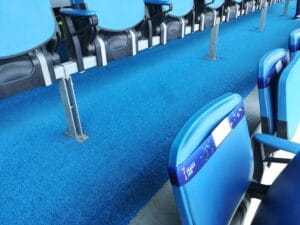 From my personal experience all protocol alignments are necessarily the results of previously established agreements and of existing national and sports regulations and also the outcome of the inevitable care and common sense that protocol professionals have to possess.  An incredibly elaborate set of professional and soft power skills is needed for such a position where facing unprecedented last-minute situations and requests are to be expected daily.