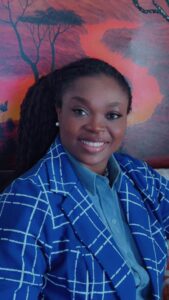 Our Guest author is Patricia Kenneth-Divine, from the UK, Founder and Director of the International Centre for Protocol and Diplomacy (ICPD). She has worked previously as International Trade Adviser with the Department of International Trade for 12 years.
She is Advisory Board Member for Global Chamber, IORMA (Global Consumer Centre) and Associate Member of the Chief of Staff Association.
She presides over affairs of the Association of Certified Protocol Practitioners in Nigeria as well as the Global Protocol and Diplomatic Network.
Through her excellent expertise the network has a vibrant membership providing support in Leadership and Protocol.
In her next article, she shares her thoughts on the power of diplomacy
In the recently concluded Global Online Conference on the "Role of Diplomacy in Achieving the Sustainable Development Goals – 2030 Agenda" gathered Leaders, Diplomats, Professionals and Business owners from over 70 countries to discuss the role of Diplomacy and its meaningful impact in achieving the sustainable development goals.
The Sustainable Development Goals 2030 Agenda constitute a comprehensive plan of action. Therefore, the overall implementation of this agenda has become paramount, and the mission is to establish a tangible cooperation among the most outstanding players within the International business and diplomatic sphere to discuss and promote the campaign towards achieving the Sustainable Development Goals' The conference which was inspired by the ongoing escalations in current international affairs, disruptions in supply chains, threats to global political and cyber security, Issues on climate change and breaches in regulatory compliance, calling for the subsequent urgency to prioritize and facilitate a wider dissemination of upskilling in diplomatic capabilities. Reaching the midway reflection point towards achieving the United Nations' 2030 Agenda, it has echoed a resounding success being an exhilarating week of bridging the seemingly unrelated worlds of diplomacy and sustainability.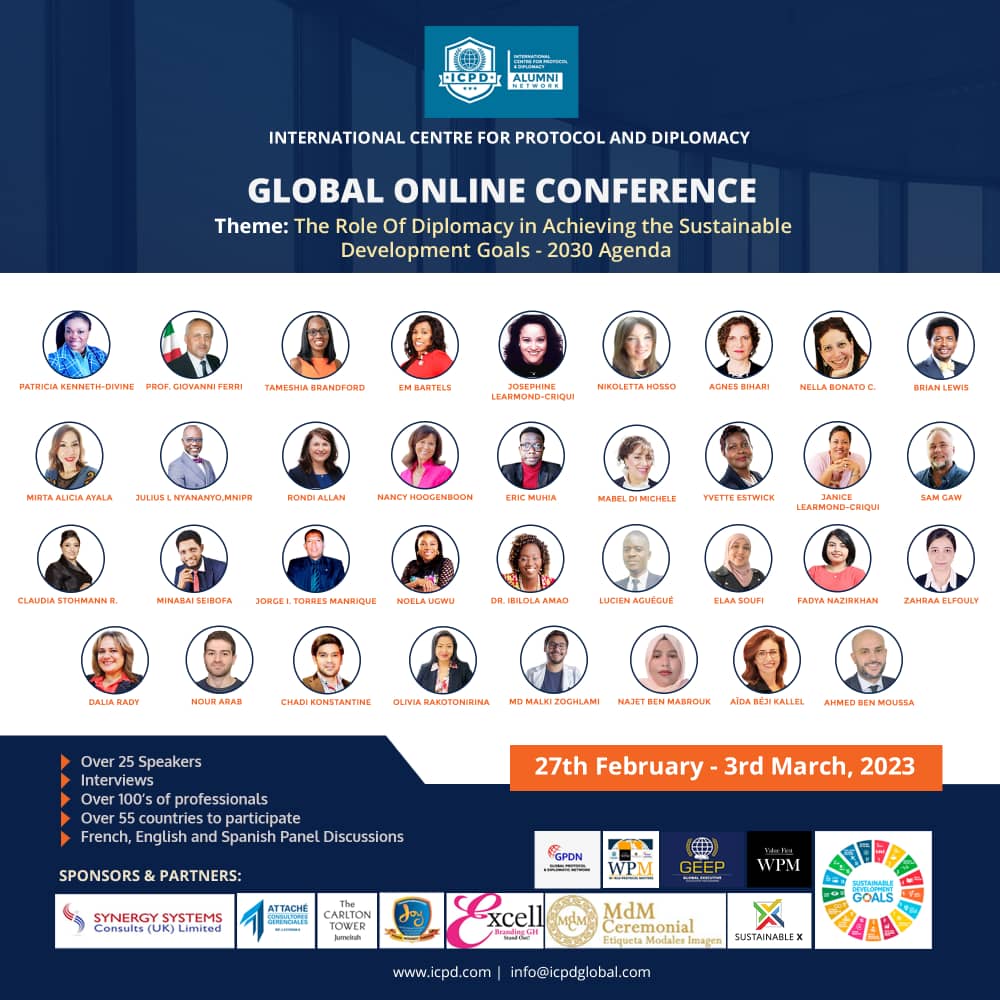 Hosted by Hon. Patricia Kenneth-Divine, Founder and Director of the International Centre for Protocol and Diplomacy (ICPD) this trailblazing event optimized the expertise of the (ICPD) Alumni network and distinguished guest speakers by illustrating how Sustainable Development Diplomacy (SDD) defines our everyday life, and the way forward to pave the road for impactful and sustainable collaboration.
The goal was to achieve a mind shift contemplating the global landscape and harness the opportunities presented by Public-Private Partnerships, sustainable investment, international trade, cross-border education, soft power, intercultural and artificial intelligence, sports diplomacy, and digital transformation, among others.
The conference which took place from the 27th of February through the 3rd of March 2023 provided a powerful platform for an unprecedented capacity building powerhouse in three geographically key languages essential for diplomacy – English, French and Spanish – to represent the diversity of our community and promote mutual respect and inclusion. It has allowed to strengthen existing co-creation and driven new partnerships among the subject matter.
Experts from a wide range of backgrounds of the public and private sectors, including: Protocol and Diplomacy, Economic Diplomacy, Digital Diplomacy, Sport Diplomacy, Cultural Diplomacy, Corporate Diplomacy, Soft Power Diplomacy, Climate Diplomacy, Human Diplomacy, Sustainable Agriculture, Sustainable Leadership, SME's and their role in SDGs, Sustainability and Resource Optimization, Capacity Building and Sustainable Learning, Image consultants, public servants, representatives of Intergovernmental Organisations (IGOs), Non-governmental Organisations (NGOs), social entrepreneurs, activists and high-ranking decision-makers in the multinational private sector.
25 speakers participated in panel discussions, sharing their insights by highlighting the latest trends, case studies, lessons learnt, best practices, practical guidance for preventive measures and due diligence. After engaging in dynamic debates and reconciling diverse points of views, it was concluded that the underlying success for sustainable development is indeed the masterful integration of the two areas that evolved separately in the past, but has become indivisible in the future for the common good by driving efforts for mutual prosperity and security through co-creation.
The outcome of this amazing conference is a call to action to successfully create a framework for a joint development of objectives by acting as change agents to integrate global Sustainable Development Goals into our local policies and practices empowered by a shared accountability for continuous improvement and capacity building. Transboundary cooperation initiated by diplomats is often essential for regional stability and a precondition for Sustainably Development. Diplomats should engage in transboundary collaboration to promote regional stability which includes working with neighboring countries to develop sustainable solutions to shared challenges. Mobilizing diplomats to contribute to investment promotion in the SDGs aligns with the broader trend in diplomacy worldwide, which is increasingly economic, digital and SDG-oriented: diplomats can play a crucial role in promoting investment in SDGs. This includes working with investors to identify sustainable investment opportunities and promoting sustainable business practices. Diplomats can also work with host countries to attract investment in sustainable development projects.
Further information on the conference, including the recorded sessions, additional articles and an upcoming educational programme on Sustainable Development Diplomacy (SDD) multilingual capacity building can be accessed on the ICPD social media platform: https://youtube.com/@internationalcentreforprot4745