Watching moments of wars, US presidential events and Hollywood celebrities through her lenses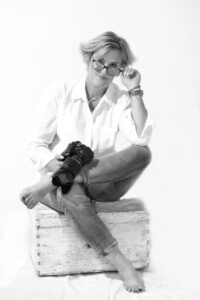 Photojournalism and war correspondence: both are incredibly tough and demanding professions, being responsible for both making high-quality photos and telling captivating stories at the same time. Ms. Gaal, though, went beyond the borders of her profession: after gaining recognition as the first female war correspondent, she went on establishing five magazines in the US and Europe, making documentaries (one of which is now a mandatory topic in final exams in Hungary!), writing numerous books and over a thousand publications.
As a member of several American and international professional associations, she works together with the Consulate General of Los Angeles and the Embassy of Hungary in Washington DC. Ryta Gaal is devoted to exploring the Hungarian communities living in the US. Her works have been shown all over the world, having had prestigious exhibitions in Miami, New York, Paris, Hong Kong and Madrid. During this interview, we were aiming to give a small glimpse into the life of one of the most accomplished female photojournalists of all time.
When did you first think about pursuing a career in photojournalism?
My grandfather was a writer. My father worked as a journalist at a military magazine at the air force in Veszprem. I did not intentionally pick this career – it was a matter of course with my family background. Naturally, at the time that was not all that rosy. I remember that while my buddies were going on vacation or to camp, I had to spend my entire summer holiday reading. Then I was mad at Dad for this, but now I am very grateful.
Photography as a profession evolved a lot in the past few decades: would you say your job got easier or harder with the appearance of pocket-sized technical devices with cameras?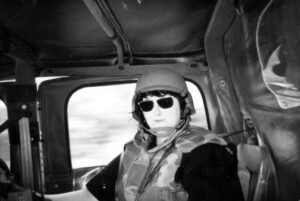 In general, I would say that technology has helped a lot, but brought along fierce competition regarding quality.
When I started my professional career 30 years ago, I developed my photos myself. Today we can see immediately how the pictures have turned out. This way it is much simpler and faster but, at the same time, I find old traditional photography more interesting.
Now you can take hundreds of pictures at an event, then select whichever turns out the best. Back then it was different. Since we took our photos on film or slides, we had to be very careful to make sure all pictures turned out well, because we were only able to see the results in the end i.e. when the pictures had been developed.
The development of technology made news photography much faster, of course. Now, we can learn what goes on in the other half of the world in seconds, while in the past we had to wait days.
Taking someone's portrait is a huge responsibility, especially if the 'subject' holds a title in diplomacy: Can you tell us about your method when it comes to taking pictures of dignitaries?
I consider myself very fortunate that I had the privilege to photograph two American presidents. In the US protocol is very important at diplomatic and presidential photo sessions. The rules are very strict. Everything is carefully pre-planned, even where the media can be located and from where the pictures can be taken. I believe my most cherished memory is when I prepared a report for CNN about the presidential election campaign of Hillary Clinton and Donald Trump. President elect Trump invited a total of ten journalists to enter and tour his Florida residence, Mara Largo. I was one of the ten and it was an incredible experience. I had never seen such posh luxury before.
Getting the Pentagon award must have been a remarkable life event. Can you tell us about the award a bit, especially about how it affected your life?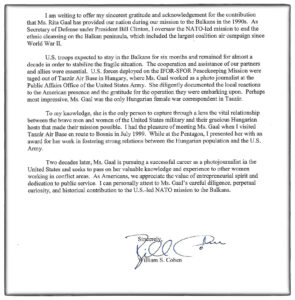 I am very proud of that award. I had the honour to receive it personally from the Secretary of Defence Mr. William Cohen, with whom I am still in contact.
There has always been a need for war correspondents: politicians, governments used them; they were the ones who informed families whether their soldier sons were still alive at the war. This is not only a profession; this is a vocation that stays with you the rest of your life. I didn't do it for awards, either. I simply wanted to show people the horrors of war through my pictures, to show how many innocent victims fell to the terrible, senseless massacre committed by us to fellow humans.  War is the most horrible act of humanity.
Being the first female war correspondent in Bosnia and then a successful editor and photographer in the States: Looking back at your career so far, what are you most proud of?
Perhaps the fact that I achieved what I call the highest potential career peak as a Hungarian photojournalist all by myself, without any external help or support. Naturally, it took a lot of sacrifice, will power and persistence, and more importantly, humility.
In 2021 I am going to have my first photo exhibition in Hungary. Balázs Bokor, former Consul General in Los Angeles is to be opening the event. I have also invited General Tibor Benkő, Minister of Defence, to give a speech at the opening. Having my very own exhibition in my home country will most definitely be one of the proudest moments in my career!
With such an extraordinary career behind you all around the world, what are your future plans?
I feel I have reached the peak of my professional career, so I moved back to Europe for a while, where I also took up teaching.
I would like to share my skills and experience of the past thirty years with others; that is why I undertook tutoring professional photography in Hungary, Germany, and Switzerland.
On top of that, I am now preparing my first photo exhibition in Hungary. I find this project especially exciting as it is my very first exhibition in Hungary taking place on my thirtieth anniversary in the field.
What advice would you give to anyone who is planning on making photography their career?
First and foremost, one must always strive for perfection. That is true for all activities and professions; whatever one undertakes to do, it will only make sense to do to the best of one's ability, without shying away from any obstacle.
Once you have a goal, it must be achieved at any circumstance, and in a professional way.
Secondly, one must be brave enough to set the bar high, even though the task may seem impossible at first.
The most ambitious goals can be achieved with the right kind of motivation and persistence.