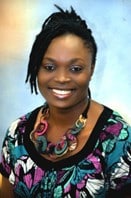 As the World Protocol Magazine Editorial Board, we take enormous pride in keeping this platform open to all experts from the numerous fields of business and protocol: Patricia Kenneth-Divine, from the UK is the next of many who have taken the opportunity of working together with WPM.  Ms. Kenneth-Divine is the Director of the International Centre for Protocol and Diplomacy (ICPD), Associate Member Chief of Staff Association and Advisory Board Member at IORMA – The Global Consumer Commerce Centre. With over 15 years' experience in International Trade and International Business Protocol, she has developed great passion promoting Foreign Direct Investments within the UK and Africa and providing a framework for Trade and Investments. Her previous working experience includes the Department of International Trade in Nigeria (Sub-Sahara Africa). She has pioneered protocol vision and presided over the affairs of the Association of Certified Protocol Practitioner in Nigeria. Through her excellent expertise the network has a vibrant membership providing support in the area of Leadership and Protocol. In her article published by WPM, she shares her impressions of Africa's protocol industry.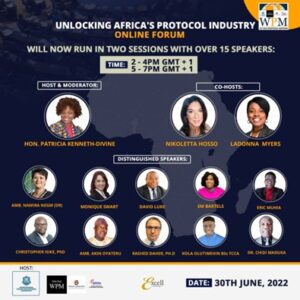 Africa is the world's second largest and second-most populous continent, after Asia with over 1.4 billion people and a diverse rich cultural heritage.
African nations cooperate through the establishment of the African Union. The continent of Africa is known to "embrace humanity," and a place where language, as a means of communication, first developed.
Africa is known as a birthplace of diplomacy and Protocol.
With great opportunities for trade across boundaries, cross cultural engagements, bilateral and multilateral engagements, soft power, International Trade, Travel etc these have brought about communications, negotiations, engagements that are evidently historical as most African states are guided by these contemporary diplomacy and protocol ethics. The legacy of colonialism and its effects brings us to look further into unlocking Africa's Protocol Industry.
The African Economic outlook certainly shows indicators that Africa has been affected with twin crises of Covid-19 and Russia's invasion of Ukraine. The escalating impacts of climate change have also affected the continent's productive capacity with various Governments seeking after solutions to rapidly expand support to their poor economies especially massive amounts of debts. Africa's growth outlook is highly uncertain especially socio political and security issues and policies to accelerate structural transformation and build economic resilience.
ACCELRATING OPPORTUNITIES IN AFRICA THROUGH PROTOCOL AND DIPLOMATIC ENGAGEMENTS: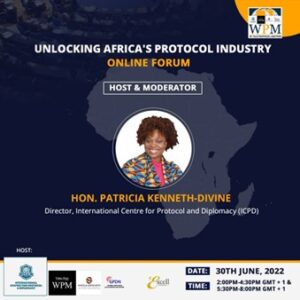 The International Centre for Protocol and Diplomacy and its partners World Protocol Magazine and Myers and Associates LLC hosted the Afriprotocol conference several weeks ago (precisely on the 30th of June 2022 hosting over hundreds of Protocol Practitioners and Professional experts from over 55 countries to discuss the impact and opportunities in Africa through Protocol and Diplomatic Engagements.
Leading the discussions at the conference, Patricia Kenneth-Divine, Director of the International Centre for Protocol and Diplomacy who was the key host analysed the prospects and opportunities of Protocol and Diplomacy in Africa. Reflecting on the art of Protocol and Diplomacy as a change factor in promoting global best practices in a diverse economy she highlighted some of the key areas that have been major characteristics of Protocol and diplomatic engagements from International Trade Engagements, Cultural Intelligence, Travel Industry Trends and Impact, Cross border initiatives on the African Continent, Soft Power values and Impact were discussed by Protocol and Diplomatic experts. The conference which welcomed speakers who presented from the African Union, Presentation of UN Economic Commission for Africa modelling results on expected AfCFTA impact, London School of Economic, Firoz Lalji Institute for Africa, The African Business Travel Association (ABTA), University of Pretoria ,African Centre for the Study of the United States, past Ambassador from Mauritius, Morocco, Libya, Nigeria, Sierra Leone, Ghana, South Africa and many more as they discussed critically the role of Protocol and Diplomacy in Africa's Economic Growth. Other areas discussed were the Digital Transformation Agenda, The Impact of China on African Health Diplomacy.  Comparing Arab Africa Protocol and Diplomacy in Egypt and Morocco were also highlighted with a great reflection on diplomatic power around Corporate Social responsibility and how this can influence Community Development across Africa.
SOME OPPORTUNITIES IN AFRICA's PROTOCOL AND DIPLOMATIC INDUSTRY:
Patricia Kenneth- Divine describes some of the opportunities within Africa's Protocol and Diplomatic Industry having considered the current trends especially post covid. It is now imperative for Africa to harness these opportunities especially with the Agenda 2063 Affirmation, The Africa We Want" as Africa's blueprint and master plan for sustainable development and economic growth of the continent and the commitment to transforming Africa into the global powerhouse.
PROTOCOL AND DIPLOMACY IN UNDERSTANDING SOFT POWER:
How can Africa harness its soft power, analysing soft power resources and its features, from political, cultural and Institutional, Protocol and Diplomacy accelerates changes within international systems and the understanding of power. Diplomacy and Protocol engagements provides a platform that drives the evolution from systems of states (an Inter-state system) to Intersocial systems as argued by Badie (2020) strongly conditioned by a complex Interaction between Social Structures. Diplomacy and Protocol lubricates the utilities in understanding how the concept of power and its usage in the International Systems is drastically changing with reference to Africa/regional Leadership.
The opportunities for African Protocol and diplomacy through soft power far exceeds the African notion of soft power ''Africanizing soft power and diplomacy'' Unlike big hard and soft power countries such as the US, China, the UK etc, most African countries do not have hard power capabilities to make them globally competitive in a realist world driven by military and economic capabilities.
However, the continent has an abundance of soft power resources and potentials which it can appropriate to rack up global admiration and influence.
The cases of Nigeria and South Africa clearly show that Diplomacy and Protocol in Africa can therefore be woven around the continent's soft power resources given the inter social structure of the international system where "weakness politics" is triumphing over "power politics", South Africa and Nigeria can leverage the opportunity this presents to attract some influence to advance their leadership interests in Africa. It is therefore imperative to build diplomacy in Africa around its soft power resources, attributes and potentials.
AFRICAN CONTINENTAL FREE TRADE AREA (AFCTA) IMPACT OF DIPLOMACY AND PROTOCOL
The economic expansion of Africa's Protocol and Diplomatic Sector can take a great advantage of the opportunities in the African Continental Free Trade Area (AfCFTA). We can begin to look into the expansion of Intra African Trade and rapid continental economic growth. Potentially transformative for Africa, Intra-African Trade relatively diversified, AfCFTA implementation precisely expected to boost intra-African trade and provide opportunities for Africa's industrialization.
The State of play for AfCFTA goes beyond the Traditional Free Trade Agreements but recognises the Protocol on Trade in goods, Protocol on Trade in services, Protocol on Dispute Settlements, negotiations, rules, procedures and service guidelines.
The rise in the demand of hospitality and travel services shows a major positive Impact of the development throughout the continent as people travel across national borders to seek business and economic opportunities that Africa's new status unveil.
A VISA FREE AFRICA
Protocol and Diplomacy continue to play a significant role as we approach a Visa free Africa, "An Africa with a strong cultural identity, common heritage, shared values and ethics" one people united under the ideals of pan-Africanism, the successful Integration of the African People will require the removal of physical and invisible barriers.
The Agenda 2063 flagship project targets free movement of people and provides a basis for ''The African Passport and Free Movement of People'' removing restrictions on Africans ability to travel, work and live within their own continent. This is aimed at transforming Africa's Laws, despite political and cultural commitments to bring down borders. The initiative aims to remove barriers and restrictions on people's movement across Africa with the view to promoting the issuance of visas by Member States to enhance free movement of all African citizens in all African countries.
It's expected to deliver enormous benefit which will boost Intra-Africa Trade, commerce, Tourism. More significantly we shall see more Pan- African identity, social integration and knowledge and skills transfer within Africa. Looking even more closely to some of the practicality of doing business within and outside Africa, the power cultural Intelligence has become relevant in the discussions, improving trans-border infrastructure and shared development is also important.
The International Centre of Protocol and Diplomacy (ICPD) are also working closely with the African Business Travel Association (ABTA) carrying out a survey on the impact of Protocol in the travel Industry. This also resulted to engaging many the African Businesses discussing Business and cultural etiquettes. Over the last few months ICPD has gained more visibility across 65 countries globally and Africa is centred on change.